AlkaViva UltraWater Filters for Water Ionizers
The Problem
We know how important it is to drink enough water each day. We also hear about the hidden dangers lurking in tap water and plastic water bottles. Standard treated tap water still contains urban, agricultural and industrial runoff such as pharmaceuticals, heavy metals and cleaning by-products from the actual water treatment.
If we consume water that is not properly cleaned of toxic, chemical pollutants then we are right back to where we started. And that is why you owe it to yourself and family to know what is in your water - to find out how you can take back your tap.
The Solution
AlkaViva has spent over two years in research and development to dramatically advance the performance of drinking water filtration. To create the cleanest, healthiest and best tasting water possible at an affordable price. The result is the range of AlkaVivaTM Ultrawater filters and filtration products.
Affordable
Laboratory tested*
USA made water ionizer filters
Patent pending
Great tasting
Counter top units, under sink units and pitcher
Products capable of the most advanced contaminant removal while retaining the beneficial alkalizing minerals. Try AlkaViva Ultrawater water ionizer filters and enjoy the cleanest, alkaline ionized water possible with most chemical pollutants rendered non-detectable. The media used in all our UltraWater products has been extensively tested by a USA, independent Government approved laboratory, certified under the strictest EPA/ANSI protocols and NSF Standards 42 and 53.
See Test Results on AlkaViva UltraWater filters Here
The Technology
Inside each UltraWater filter is the patent-pending technology that forces contaminated water to flow in a tortuous path through supercharged media, trapping contaminants across the board while leaving the beneficial alkalizing minerals intact. Imagine the cleanest and healthiest water as nature intended - that is the next generation - that is AlkaViva Ultrawater. The way water should be!
UltraWater water ionizer filters give you the cleanest water!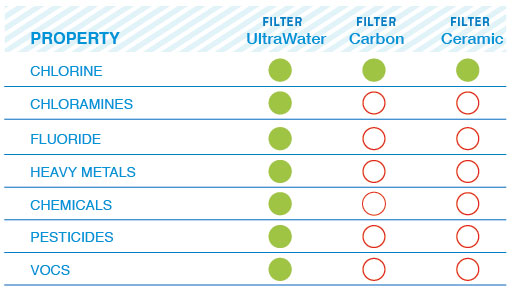 UltraWater water ionizer filters give you the healthiest water!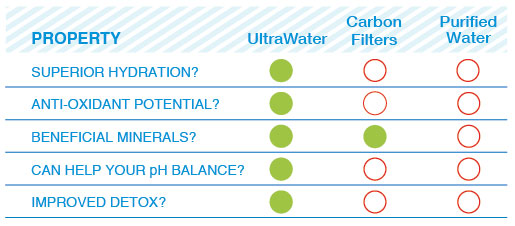 Good, Better and Best AlkaViva Filters - Differences Explained
The price for the Ultrawater filter is $109.95, the Biostone Plus filter is $99.95, the Biostone Basic filter is $89.96 and the
.01M Biostone Ultra Water Filter $99.95.
GOOD
The BioStone Basic uses compressed carbon block technology. It will remove chloramine - a disinfectant that GAC (granular carbon) won't touch. The Basic will out perform any GAC filter - regardless of micron rating and without channeling which saps performance. The Basic also offers you Scale Guard to protect your ionizer from hard water damage. Read about the Danger of Chloramine Here.

The Biostone Basic help remove chlorine, chloramine, bad taste, fluoride, heavy metals and other contaminants. What remains is good tasting water with the essential alkalizing minerals remaining. Is for use only with potable water.
Can be used in the Vesta, Athena, Melody, Microlite, Venus, Melody, Orion, Aquarius, Delphi and certain other models. To buy a Biostone Basic and/or see the full list of ionizer models please Click Here
BETTER
The BioStone Plus starts with the same compressed carbon block then adds "Plus Technology" by impregnating it with specialty media to increase contaminant reduction. It removes more than the Basic including chloramine, heavy metals and other tough contaminants. Containing Scale Guard protection, it will out perform any GAC filter - regardless of micron rating.
Can be used in the Vesta, Athena, Melody, Microlite, Venus, Melody, Orion, Aquarius, Delphi and certain other models. To buy a Biostone Basic and/or see the full list of ionizer models please Click Here
BEST
The BioStone UltraWater uses the BioStone Plus compressed carbon block but then turbocharges it with UltraWater Wrap technology ensuring unmatched reduction. Up to 99.9% of virtually all contaminants are removed, including chloramine, pharma, heavy metals and resilient contaminants like chromium IV and arsenic. Add Scale Guard protection and it out performs any other filter we know of. Clearly the best choice you can make in a filter. Period.
Can be used in the Vesta, Athena, Melody, Microlite, Venus, Melody, Orion, Aquarius, Delphi and certain other models.
Please Note: For filters to fit the new H2 Series ionizers and Delphi H2 please go Here.
To buy an UltraWater filter for an older model and/or see the full list of ionizer models please Click Here

BioStone/ UltraWater filters are proudly made to the highest quality,
right here in our factory in Reno Nevada USA, using
NSF certified materials and AlkaViva pride!

AlkaViva .01 M Ultra Biostone Plus Filter
Optional filter for the Vesta, Venus, Melody, Orion, Aquarius, Athena, Delphi, Microlite and certain other models. See Here for full list.

Also called a hollow membrane filter, this filter is the same size filter that is used in kidney dialysis.
It is the finest (smallest micron) domestic filter available and will remove virtually everything except for the essential alkalizing minerals.
Typically, if on city water we recommend the regular UltraWater filter but for well water we recommend the .01M Biostone filter.
If non using city water, we also recommend using a Professional Water Testing service (see Here) and then talking with an IonLife water specialist to make sure you have adequate pre-treatment.
The picture above shows a single .01M filter magnified 40 times. Hundreds of these are in a Biostone Ultra Water Filter. For cut-away image of the .01M Biostone filter Click Here

Ionlife also offers a comprehensive range of pre-filters and whole-home systems
If you have special needs then please Contact Us.
Article >>> Viruses, Bacteria and Fungi, Sizes and Significance
For more information on The Venus Water Ionizer.
For more information on The Melody Water Ionizer
For more information on The Athena Water Ionizer.


How do I know when my filter needs to be replaced?
All the latest Emco Tech ionizers have a digital readout that shows how long before you need to change your filter. A filter typically lasts a family of four between 8 to 9 months and gives a good 1000 gallons of water. We recommend changing the filter at least once every 12 months to ensure quality performance.
How often you change your filter will depend on the quality of your water and the amount of water you are using each day on average. If you smell or taste chlorine in your water after it passes through your ionizer you should change your filter. In some city water supplies the amount of chlorine etc. now used is at higher levels than before due to increases in contaminants. Also if you notice that the flow rate through your filter has decreased to a slow rate then it is probably because it is full of particles and now needs replacement.

Who needs a Hollow Membrane (.01M Ultra Water) Filter?
Anyone who needs extra help removing mico-organisms. Otherwise the UltraWater or Biostone Plus filter is the ideal choice for typical city water.

The statements enclosed herein have not been evaluated by the Food and Drug Administration. The products mentioned on this site are not intended to diagnose, treat, cure, or prevent any disease. Information and statements made are for education purposes and are not intended to replace the advice of your family doctor.