Why IonLife?

We started 17+ years ago selling Emco Tech (previously Jupiter Science) water ionizers, plus low speed juice extractors and various health books. In fact we are the oldest water ionizer company outside Asia and many who now import directly (such as Life Ionizers and Tyent) were once our dealers. The business name in 2002 was Allorganic and orders were mainly sent from a warehouse in Connecticut. Then in 2006 our name was changed to IonLife.
We now import ionizers from select manufacturers and ship products to anywhere in the USA and Canada, plus internationally to about 30 countries (please ask).
IonLife is a retail arm of AlkaViva LLC. AlkaViva is the North American exclusive importer of quality water ionizers, manufactured in Japan and South Korea. Through years of experience, AlkaViva is able to select and obtain the best brands and models available.
AlkaViva purchases their models from manufactures with ISO9001 certified production plants. These plants also provide OEM manufacturing for globally recognized businesses in Japan and Korea such as LG, Samsung, Toyo, and Hyundai.
Please Click Here to read what a few of our AlkaViva Dealers are saying about Us.
And Here for some Customer Testimonials.
All our ionizing chambers (the heart of the ionizer) are manufactured in a Japanese factory. In Japan, a number of engineers work on large commercial applications while others continue to develop technology that produces more efficient domestic ionizers. We only deal with true manufacturers who create their own ionizing chambers. Some other exporters just buy components and then assemble the parts. This lack of technological efficiency can be a reason why some ionizer assemblers need to use larger plates and more power.
Advanced research along with honest pricing and exceptional customer service is why AlkaViva sells so many ionizers in the USA.
Two of the best examples of cutting edge Research and Development, are our patented mesh technology and the DARC cleaning system. By keeping the plate size small while increasing the pH and ORP means being able to use less electricity which in turn ensures the plates remain undamaged. The updated DARC system in our H2 Series is what cleans the plates (in the background) with every use and helps ensure your ionizer will continue to perform like new, year after year.
IonLife is committed to only offering products that are of excellent quality and great value.
To this end, we continue to research and test new products. Only products that we have found to promote a healthy lifestyle in a safe and positive way are offered for sale. We also offer you a no questions asked 60 day return policy if not fully satisfied. That our customer satisfaction is second to none can be verified by clicking on the Better Business Bureau logo on this page.
We challenge you to find better prices anywhere. By working directly with AlkaViva, we can pass on big savings and loyalty rewards to you, our valued customer.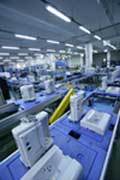 Your order will ship, same or next working day, from AlkaViva warehouses in either the USA and Canada. Our qualified and caring consultants are available to give ongoing support and service.
You can be assured that we are here to help answer your questions and provide quality ongoing service. We know and appreciate how much of our business comes from personal referrals. Please Click Here for a few testimonials.
Your Health is Your Wealth
Telephone: Toll Free 1(775) 324-2400
For Domestic Water Ionizers, Water Filtration Questions, Professional Water Testing Services and Whole Home Systems.
Please Note: We are now also selling through the AlkaViva distributors in the UK, Europe, South America, Asia, Africa, Australia and New Zealand. For-–– any enquiries please use email below.
Fax: 1(775) 201-1188
Email: IonLife:
AlkaViva Head Office USA: Unit C, 8745 Technology Way, Reno, NV 89521